So called "face painting sponges" stink!
They're bulky, have to be cut down, and are generally fussy to use.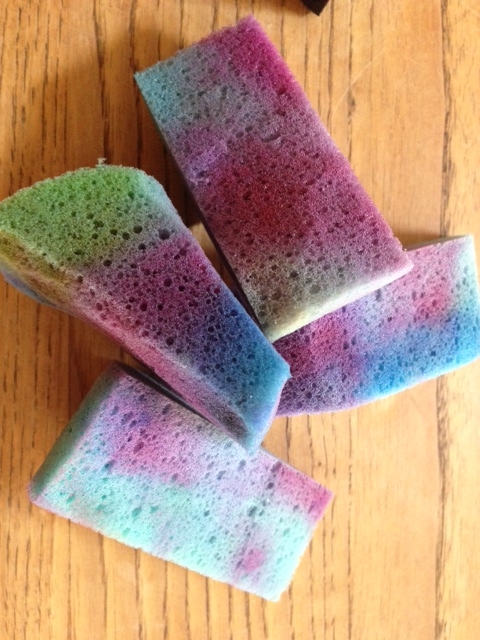 Could it be that an all-in-one, nearly free, makeup sponge will solve your sponging problems?
Fellow face painters frequently ask why I use cheap makeup sponges for my face painting designs.  Well, it's been my little secret–until now!
I know, I know, not very "juicy," but work with me here.
When I started my face painting career I experimented with many different techniques, including sponging.  I quickly went out and bought the "made for face painting" sponges.  You know, those Moon Pie shaped, too-big-to-use discs.
No go, Batman.  These things just won't cut it!
I tried cutting them into triangles because I found it's the easiest shape to work with.  I discovered using a triangle shaped sponge is especially helpful when painting around kiddos eyes, like with the dinosaur face paint design, for example.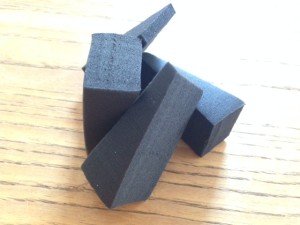 After much effort, I finally gave in and gave dollar store sponges a go.  They totally rock and I wouldn't switch back to the other sponges for anything!
The five reasons I prefer dollar store triangle sponges:
I can get 28 sponges for a dollar, as compared to the "official" face painting sponges, which are a dollar each.  After all, you know how thrifty I am after hearing my thoughts on wasting face paint!
Even when you cut down the regular face painting sponges, they're still too large to finesse properly.  I mostly paint on children and the smaller sponges are a much better fit for their little faces.
You don't have to cut or shape them
Yep, just like it sounds, they're ready to rock right out of the package.
The triangular sponge is in the perfect shape to apply many face painting designs.  The rectangular end of the sponge fits like a charm into a mini split-cake.  Plus, they're flexible, yet firm enough to retain their original shape.
They don't stain like traditional face painting sponges
These little guys are much easier to clean and generally look nicer for longer.  I use anti-bacterial soap to clean them between each event.
Bonus Tip:
These little guys work great to apply the glue for your glitter tattoos.  They spread the glue more evenly than the standard brush applicator.  This enables the glue to dry more efficiently and avoids clumping.
And all this greatness for a dollar, who knew?! =)
Click the icon below to download this post as a PDF document.