Face paint is stinkin' expensive. Getting the most bang for your buck just makes sense.
Stay tuned and I'll show you how to do just that…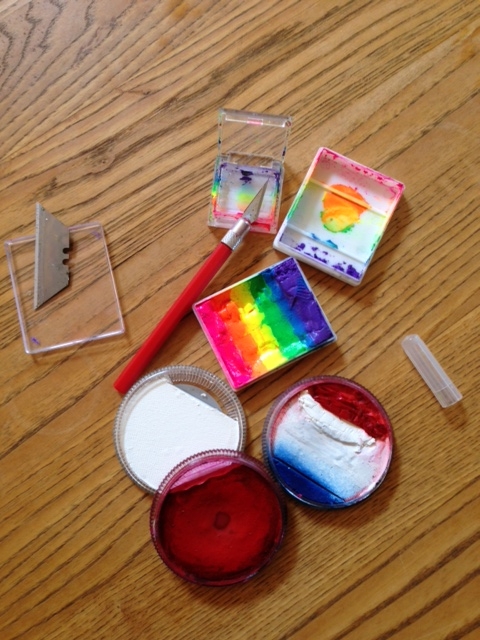 You know how your face paint containers go from a cute little cake to a weird little donut?
How the paint seems to disappear from the center like your three-year-old carved it out?
Annoying, huh?
The good news is we can repurpose and reuse that paint.
And it's easy!
When I first started face painting, I went online and bought some awesome plain and split cakes.  I went on my merry way and began painting faces like a crazy clown would.  Many, many faces.
Before long the middle of my cakes started disappearing.  The small rectangular split cakes got used up the quickest. Soon, the only paint left were spotty sections of color at the edges.  I can tell you, this makes for one unhappy clown!
The problem is, those little rainbow guys are EXPENSIVE!  I'm a dollar store kind of girl, so the thrift in me began to look for a solution–and fast!
Tips and Tools for Recycling Your Face Paint Split Cakes
Tools You'll Need 
Straight blade razor
Exacto knife
Empty or partially used cake to transfer the old paint into
The Process
Use the straight blade razor to cut the face paint out of the old cake.  In some cases, like with the itty-bitty rectangular cakes, an Exacto knife works better.
If you're cutting out of a rainbow cake, use the razor blade to cut out only one color at a time.
The technique works best when you take from an almost completely used rainbow cake and add to a used cake of the same type.
Remove a color from the old cake and add it to the same color on the new cake.
Repeat this process until you've removed all the paint from your old cake.
Once you've relocated all your paint, use the flat side of the razor to flatten and shape your new little transplant.  Just make sure there are no gaps between the colors.  Don't worry, a surgeon's precision isn't necessary!
Last, take a moist sponge and run it over the top of the paint.  This smooth's out the paint and picks up any colors that bled onto each other.
Bonus Tip:
When you pack old paint into your new cake, make it a little higher in the center.  The center wears down the quickest, so by doing this you'll add extra life to your new little cake!
This technique works great, and I promise it'll save you some of that hard-earned cash!  Remember, you shouldn't ever need to throw away any paint.  Recycle it!
Click the icon below to download this post as a PDF document.